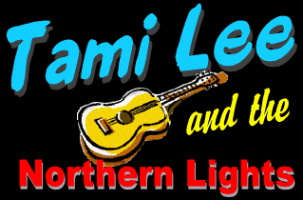 The Tami Journal!
January 27, 2015

Howdy Folks!

I am sad to see our Journal Page never gets updated anymore! I guess all of us Northern Lights got the Facebook, and just use that instead! So, I invite you to do the same!

Please check out Tami Lee and The Northern Lights on Facebook, and hopefully, we'll keep you updated there instead! There's gonna be some more changes to this website coming too, maybe this page will disappear. We'll see! We also added a Media Page, where we can upload videos taken at our shows!

As always, thanks for stopping by!

Your Pal

AL
November 22, 2011

Howdy Folks!

As we approach Another holiday season, it becomes clear that another Year has flown by! We had a great 2011 and hope you did too! We really did have a great year, so many good memories! We wanna thank you for that!

We are pleased to announce our return to The Shooting Star Casino at Mahnomen, MN in February! That was always one of our favorite places, and it will be fun to go back.

I wanted to let you know, we started a YouTube Page, and we have a few live videos on there now. In the coming months, we hope to add more. Please watch for that!

Have a Merry Christmas everyone (If I offended anyone by saying that, I really don't care!).

Thanks for all the fun!

See ya soon!

Your Pal

AL
August 21, 2010

Hi Everyone!

The band and I are still talking about the great time we had up in Warroad at the Seven Clans Casino's 19th Anniversary party. Thanks to everyone involved for making it a day we won't soon forget! Everyone was so nice, and the food was great! We all hope we can come back for the 20th!

Also, I want to Thank everyone at the De Jope Casino in Madison, Wisconsin! You made us feel right at home. We had a blast! Thanks to the great sound crew (Josh and Kyle), Bryan, and the rest of the staff for making us feel so welcome! It was such a nice place to play!

Up next, we'll be at Kick n Up Kountry in Thief River Falls! We play at 3pm on Sunday, September 5th. I just love the outdoor shows this time of the year!

Thanks again! I hope to see each of You soon!

Love,

Tami
March 22, 2010

Howdy Gang!

We just made our first appearance at Ho-Chunk Casino in The Wisconsin Dells! It was a beautiful place, and the people were all great! The parking lot backstage even had a sign that said "Rockstar Parking"! We have already met so many wonderful people in Wisconsin, I am sure We'll be going back soon!

Thanks to everyone at The Ho-Chunk Casino, and a huge thanks to Mikey the sound technician (possibly the best sound guy We've worked with!)

See ya'all soon!

Your Pal

AL
January 6, 2010

Howdy Gang!

Happy New Year! We finished out 2009 in a big way! We hit 3 states in 3 weeks! ha-ha-ha! We were back at Cowboy's Bar in Bottineau North Dakota last month. It was good to see everyone again, and we all had a great time. We would really like to go back to Bottineau when it's warm! -It was -26 below when we packed up on Saturday Night!

We also returned to Dakota Sioux Casino in Watertown South Dakota. That is such a nice place to play, and Matt Reese (the soundman) always makes us feel welcome! There was no travel advised that weekend because of 30+ inches of snow, but we managed! (Thanks to My Dodge Dakota!) As I always say "The show must go on!"

We wrapped up the year at Majestic Pines Casino in Black River Falls, Wisconsin. It was our first trip there, and it was a wonderful place! We had a great crowd on New Years Eve, and they all seemed to have a good time! The staff was so helpful and nice; we all can't wait to return!

2010 is going to be a lot of fun too! We will have a calendar online again soon!

I hope to see ya soon!

Your Pal

AL
June 7, 2008

Howdy Folks!

One of our new friends just chewed us out for not updating the Calendar!!! Sorry about that Bob! (we look forward to seeing you this summer! ha-ha-ha!!!)

We will be returning to Mysic Lake Casino in July. We are all excited to be back! Please come on out and say hello!

We are also excited to be playing at Summerfest in Stephen, Minnesota this year!

Don't forget to visit our Gallery. And be sure to visit Tami online at Myspace.

Thanks for the emails, and thanks for visiting tamilee.net!

See ya soon!

Your Pal

AL
February 27, 2008

Howdy Gang!

As many of you noticed, We've been busy updating our website. In the process, I didn't update the Calendar! Sorry for that! And thanks for the emails to remind me! We will be getting busy again soon. We do have another date at The VFW Club in Thief River Falls on March 29, Please come on out!

We made some minor changes to our Gallery, and if you take a look, you'll see Tami has posted some more promo pictures! Enjoy!

Thanks again for the emails, and thanks for visiting tamilee.net!

Your Pal

AL
February 5, 2008

Hello Everyone!

We really had a fun time at Dakota Magic Casino! Thanks to everyone there for having us back! Also, thanks to all of you for coming out to see us! It was so nice to see the familiar faces! Thanks for all the nice comments too, it means so much to me!

We'll be hitting the road again soon, keep watching our Schedule and try to come and see us!

Thanks Again!

Love,

Tami

January 5, 2008

Hello Everyone!

We finally added a few more pictures to our gallery, I am sorry it has taken so long! Please check out the new pictures. Unfortunately, Most of the casinos We play won't allow cameras, so we gotta use what we get at the bars and other gigs!

We had a wonderful New Years Eve once again, this time we played up in Badger, Minnesota. It was a very fun crowd! I hope We get to play for them again!

Tami Lee and The Lights will be back at Dakota Magic Casino soon! We are very excited to be back there, please come out if You can!

Don't forget about Tami's MySpace Page, drop by and leave her a message!

Thanks again for visiting Tamilee.net!

Your Pal

AL

October 1, 2007

Howdy Gang!

I just wanted to drop by and say HELLO! It's been a while, I guess We've been neglecting our Journal responsibilities again! (sorry!)

We played The Goose Fest in Middle River, Minnesota last weekend! What a great time! We had giant big crowds both nights, and saw some friends of ours too! Roy and Rocky from the Chute 7 band came in, so did Dan Taus from The 4-Wheel Drive Band! It's always fun to see other musicians! On Saturday afternoon I got to hear the Ramblin' Fever Band again! And I took in some of the other festivities too! Honestly, one of the funnest gigs we've played! We had Jim Beiswenger Jr. play drums for us again, and he did great! Thanks Jim! (Next time, ya gotta sing more!!!)

The Shooting Star Casino is coming up again! We are all looking forward to it! Come see us if you can!

Hope to see ya soon!

Thanks for stopping by!

Your Pal

AL

July 30, 2007

Hi, everyone! I hope you are having a beautiful summer! I hope you have had as much fun as me and the Northern Lights!

We kicked off the summer up in Thief River Falls at the Vets Club, then we had the honor of entertaining a very special couple in Jamestown at their wedding reception, then it was off to Velva, ND for the rodeo! What fun! Thanks to the fun crowd out at the Lariat. Next, we went down to the Mystic Lake Casino where we always have a good time. We were excited to return to the Dakota Sioux Casino near Watertown, SD. What a nice room to play! The people are always so friendly and we just love that. A very special thank you goes out to Matt the sound man for making us sound good! After that we went up to Larimore to play two hot summer nights at the street dance. Thanks, Brenda and Eddy for the big welcome! This past week we had the time of our lives at the Shooting Star Casino. We love that place! Another big thank you goes out to Randy and Will for all their help with sound over the week. You are a pleasure to work with every time.

I wish you all the best as this summer of fun rolls on-

Love Tami!
[Home][Backstage][Gallery][Friends][Contact][Schedule][Press]
Fruitcake Productions 2005-2015. All rights reserved.